Are you an artist who wants to do more digital work using a drawing tablet? Are you someone who has been thinking of venturing into digital artwork? Luckily, there are some pretty sweet drawing tablets on the market. These are just a few options to help you expand your horizons and bring your imagination to life.
The Different Types of Drawing Tablets
Graphics Tablets (No Screen)
Graphics tablets have no display screen and need to be connected to your computer to view your artwork using the software of your choice. Low in price, graphics tablets are a great choice for beginners and hobby artists looking to get started with a drawing tablet.
Almost all operating systems are compatible with graphics tablets, which is excellent. While you can carry it with you anywhere, you will only be able to work if a PC is nearby.
Pen Displays (With Screen)
Pen display tablets have their own screen monitor and are aimed more at professional artists. One of the main advantages of a pen display tablet is that they allow you to see your artwork on the tablet monitor as you draw.
However, just like with graphics tablets, pen displays also need to be connected to a computer to function. While similar in design and appearance to the common tablet computer, such as the Samsung Galaxy Tab, or the iPad, pen displays are not computers at all and need to be connected to a computer to be used. So think of pen displays as a 2nd screen.
Because pen displays have their own screen, these tablets are considerably more expensive than the graphics tablet models.
Tablet Computers
Tablet computers are the perfect choice if you want an all-in-one solution without having to connect a drawing tablet to another computer. These are the most expensive drawing tablets as they are full computers that can be used for anything.
You definitely want to become acclimated to smaller size drawing tablets before making the investment in a larger size. Tablet computers, of course, are phenomenal choices for professional designers and illustrators.
Best Drawing Tablets For Beginners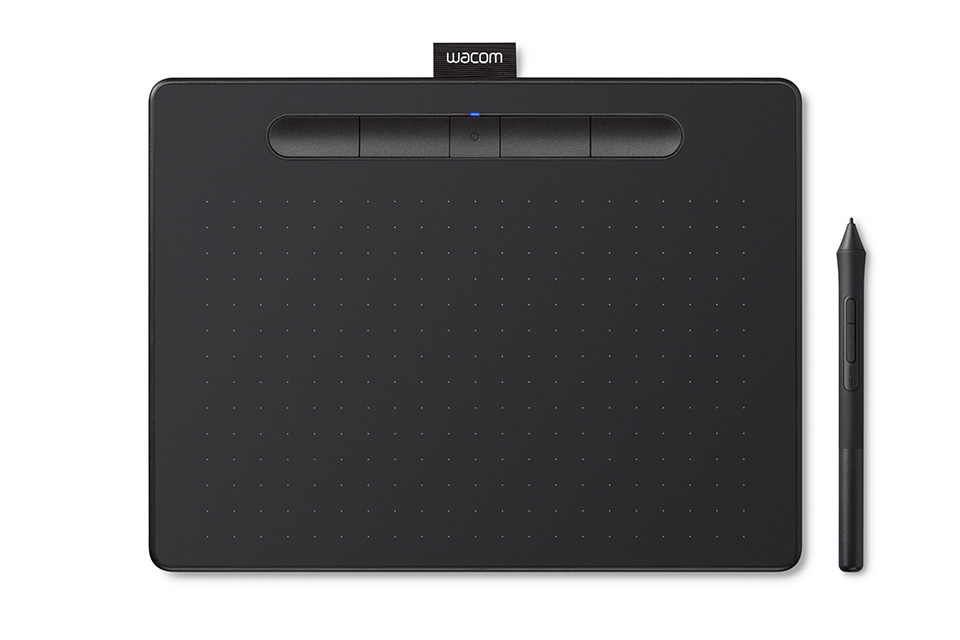 Wacom Intuos graphic tablet comes equipped with free downloadable software and online training to get you started. You have three creative applications that you can use for free, which are Corel Painter Essentials 6, Corel Aftershot 3 and Clip Studio Paint Pro.
There are a few options to consider when purchasing a Wacom Intuos.  There are 2 sizes, small (6.0 x 3.7 in. active area) and medium (8.5 x 5.3 in. active area).  Two colors, black, and pistachio(green).  There are also 2 ways to connect your Wacom Intuos to your computer, wirelessly via Bluetooth, or by using the included USB cable.
The stylus utilizes electromagnetic resonance technology and has a total of 4,096 levels of pressure sensitivity. Nibs come in an assortment of standard, felt or flex varieties.
Customer reviews indicate only two primary issues. Artists who draw substantial amounts can expect nib wear. Bluetooth should allow for quick connectivity, but some consumers found the feature lags. Others experience issues with the Bluetooth disconnecting.
Pros
Battery-free pen
Bluetooth
Responsiveness
The Huion Giano features one of the largest active drawing area's (13.8 x 8.6 inch) of any digital graphics tablet. Delivers over 40 hours of battery life and the rechargeable pen has 2,048 levels of pressure. It even has 2.4 GHz wireless connectivity via a USB wireless receiver and an internal 8GB MicroSD card for saving your creations.  12 customizable express keys add more versatility for artists alike.
Consumers only had one complaint more or less, which is the unpredictable performance. The tablet has spurts where it works sometimes and does not at others. When this happens, pressure sensitivity is unresponsive, and the pen lags.
Bearing in mind that the tablet malfunctions only occasionally, this is a wonderful product. Artists agree that it works well overall and has good sensitivity. They consider this a great quality tablet that is perfect for beginners or traveling artist.
Pros
Large active surface
Wireless
Rechargeable pen
Cons
Unpredictable performance
The Ugee graphic tablet offers beginners and professionals a 10 x 6" active drawing space. Prepare for an experience with lag free sketching and painting. This tablet has a total of 2,048 levels of pressure sensitivity.
You can create accurate lines with weight and opacity of your choice. If you desire a sharper line, apply light pressure. If thicker lines are more your taste, apply hard pressure. This drawing tablet is compatible with Windows, Mac and over 11 creative software.
Customize your hotkeys to help you erase, zoom and undo to finish your project quicker. Whether you are left-handed or right-handed, the Ugee will accommodate you perfectly. The company stands behind their product and offers a 12-month warranty.
Ugee offers professionals and newbies alike a cheap tablet that performs. It comes with a rechargeable stylus pen that includes a battery status light. You will be able to work without the uncertainty of wondering when your pen will die.
A few users experienced driver issues where the tablet does not coordinate well with their PC. Individuals noticed it made their laptop freeze, and the drivers make it difficult to use Adobe or Autodesk products. Nevertheless, this tablet functions similar to a Wacom Intuos Pro for a more reasonable price. It has a larger surface and good pen sensitivity. Additionally, the drawing gloves enable the hand to glide across the tablet easier.
Pros
Anti-fouling glove
Pair of white drawing gloves
Price
Best Pen Displays (Drawing Tablet With Screen)
Often considered the flagship product when it comes to drawing tablets, the popular Wacom Cintiq Pro is very versatile with screen sizes at 13", 16", 24", and 32". The Pro Pen 2 stylus has a total of 8,192 levels of pressure sensitivity with no parallax and natural tilt support.
This high-quality tablet has etched glass to reduce glaring and reflections. You will find it easy to use since the touch models have an interface similar to smartphones with panning, zooming and rotating functions.
An ergo stand lets you adjust the tablet to your most suitable angle and position. Enjoy your creative process while drawing on a screen that feels similar to paper. There is even a marketplace for downloading extra applications.
Pro 24 models can be converted into a creative pen computer via the creative PC module. Moreover, the Pro 24 has the capacity to create and review VR content.
Wacom Cintiq Pro is indisputably the best tablet for drawing according to customer reviews. Everyone can agree the display is great, and the colors are sensational. Its performance outshines Wacom's competitors.
Users dislike the long, bulky cables used to connect the tablet to a PC. According to artists, the price point is steep because there are still issues with pen offset around the edges. Touch capability occasionally has issues with palm rejection, rotating and zooming.
Pros
Beautiful display
Different screen size options
Huion Kamvas possesses in-plane switching, which provides a consistent appearance, color accuracy, and enhanced light transmission. The screen features a 19.5" IPS LCD display that is optimal for viewing the 16.7 million color options. To keep this beautiful screen in tip-top shape, the manufacturers equipped the tablet with an anti-glare screen protector.
The Huion Kamvas is compatible with either Mac or Windows platforms and the new ergo design digital stylus pen (PE330) has a total of 8,192 levels of pressure sensitivity. Draw for hours and hours with this digital pen that has a long battery life.
Customer reviews indicate Huion Kamvas is a well-built drawing tablet. It is a great product for the price, and it does not take long to setup after unboxing. One complaint is the cursor often does not line up with the pen's tip. Moreover, some artists would like more accurate colors.
Pros
8 pen tips
Screen Protector
2 pens
Cons
Driver disconnections
Pen disconnections
Color Vibrancy
Cord Management
The XP-Pen Artist 15.6 is a digital pen display and only 11mm in thickness making the tablet easily transportable.  You will notice the corners are smooth to give you the most comfort while drawing.
Life-like colors and vivid images shine through the high-quality glass meant to enable high precision and dust prevention. There is a total of 8,192 levels of pressure sensitivity and even a battery-free pen.
Take your creations from your tablet screen to a PC with the USB-C cable. You also do not have to worry about your eyes straining from the brightness of the screen because there are buttons to easily adjust the levels to your comfort.
Consumers seem extremely pleased with this product. They agree it has a beautiful, well-built design and responsive display. A few artists experienced calibration issues with their pen along with quick nib wear. The only other complaint is the screen scratches somewhat easily.
Pros
15.6" Display Monitor
Battery-free pen
Easy access buttons
Cons
Nibs
Screen sensitivity to scratches
Artisul D10 S is a versatile drawing tablet perfect for adults or children. Construct the most beautiful art, design, calligraphy and other creations of your dreams. This tablet has 2,048 levels of pressure along with a battery-free stylus.
Customize your tablet with the 6 Hotkeys to have your most used functions in shortcut format. The Artisul is compatible with Mac and Windows operating systems. The product comes complete with a one year warranty and five replacement nibs.
According to the reviews, artists concur that the Artisul D10 S is a cheaper option to the Wacom Cintiq Pro. While the Cintiq Pro offers greater nib variety, better tilt recognition and a pen with eraser, Artisul offers users a better stand and more hotkeys. Not to mention, the bright screen provides a beautiful display, and setup is quite easy.
Artisul drivers could use improvement because a few users found they must install and uninstall them for proper function. One Mac user commented they experienced lagging. Others mentioned it is difficult to work with on select programs. This will depend on your individual operating system and which platforms you prefer to use.
Pros
Price
Thin and light weight
Replacement nibs
Hotkeys
Cons
Poor stylus/cursor alignment
Occasionally needs reboot for proper functioning
Install/uninstall drivers for functioning
Do you want a drawing tablet that is a full tablet computer, doesn't need to be connected to an additional computer, and doesn't cost as much as the popular Galaxy Tab/iPad/Surface Pro? Then the Simbans PicassoTab is for you! A true 2-in-1 portable solution. Enjoy drawing, painting and sketching with the active pen and Autodesk Sketchbook app on the PicassoTab. The 10" screen lets you see your creations in IPS HD screen resolution. Then also use it as your tablet computer for anything else you need to do like watching movies, playing games, or just simply browsing the internet. Because the Simbans PicassoTab is using the Android operation system, it has the capability to download apps from the Google Play Store.
Present your artwork to others by connecting your drawing tablet to either a PC or television via HDMI. The PicassoTab is certified by FCC and CE Standards, so rest assured this is a quality product. Simbans stands behind their product with a one year warranty.
Simbans PicassoTab offers a great product for those of you on a budget. Some users found the stylus scratches their screen, so they recommend picking up a softer model. Another issue is apps tend to force close or freeze, and this necessitates rebooting. Internet browsing is somewhat slow, but the tablet works well when drawing.
Despite these few minor setbacks, other users adore their PicassoTab. Customers state the tablet has a good battery life. While the performance is not perfect, it works wonders for its price tag. Artists appreciate the stylus sensitivity and overall find the tablet works as promised. Certain users received their tablet fully charged, while others had to let their tablet charge around 30 minutes before use.
Pros
Full tablet computer
Android OS
Portable
Stylus sensitivity
Cons
Performance issues
Stylus (scratches screen)
Freezing/Rebooting
Conclusion
We can clearly see there are some phenomenal drawing tablets on the market this year. These tablets come in many different sizes. Not to mention, there are those that come with a screen display and those without one. Whatever your preference or budget, one of these products should meet your needs. If not, you at least have a better idea of what is available and the qualities of some of the leading graphics tablets.
Feel free to check out any or all of these tablets online for more information. Reading additional customer reviews can help you select the best option for you.